5 April
Posted by James Madison of American Media Periscope
Patriot Nathan Hale said 'I regret I have but one life to give for my country'. While American Media Periscope is happy to report President Trump is alive and well, he has for all practical purposes given away what was a very nice life in exchange for a level of harassment, dishonesty, and corruption that should stagger the mind. President Trump entered a New York courtroom Tuesday where he pled 'no guilty' to thirty-four charges related to an alleged payment to x-rated film actress Stormy Daniels. But, as AMP has been telling you, there is a catch. The catch is that corrupt George Soros-funded DA Bragg is pushing a weak case as a method of harassment in hope of stopping the President from returning to the White House where he belongs. Legal scholars who are Democrats have called the case weak but there really is no case at all and here is the proof.
Note, strong language:
https://360newslasvegas.com/breaking-evidence-stormy-daniels-lied-about-trump-affair/
That should be enough right there but let us continue… Here is the President from Mara Lago
AMP's James Grundvig also noticed the President while traveling was accompanied by an ambulance. That is not standard practice unless the person is the current sitting President. Take a look at 'Trump Force One' on the tarmac ready to fly to New York. This certainly looks… presidential.
Mr. Grundvig published this piece on the issue:
https://americanmediaperiscope.com/donald-trump-sounds-presidential-again-why/
President Donald J Trump gave up the life of a billionaire to endure hardship and persecution that most of us will never endure. But, remarkably, his resolute nature makes him the one that the globalist cabal fear. Yes, fear, because he will undermine the deep state and take control from the elites.
What you will not see in the news is that President Trump just won in court. Not only did he win his original lawsuit against Stormy Daniels, he just won an additional sum of $122,000 because the case against him is simply 'trumped up' and not worth prosecuting.
Analysis of the Trump Indictment
Curious Omissions from the Manhattan DA

22 hr ago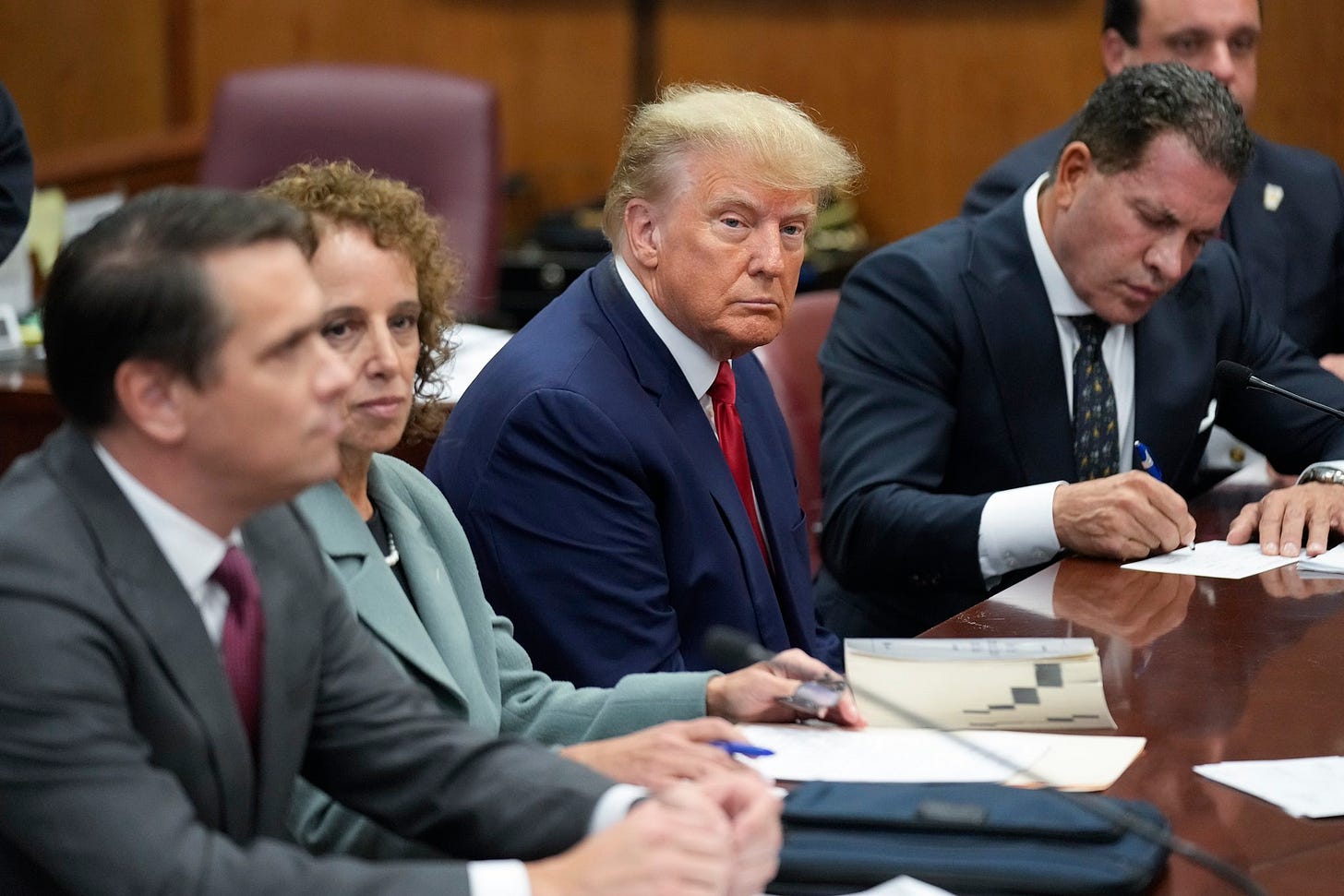 After nearly 8 years of investigations by federal and state authorities – spanning from Russian collusion to obstruction of justice to campaign finance violations to tax fraud – former president Donald Trump was indicted last week by the Manhattan District Attorney, Alvin Bragg.
And today we saw the next step in the unprecedented prosecution of a former president and current GOP presidential candidate: Trump turned himself in at the Manhattan DA's office.
Trump arrived at approximately 1:30 p.m. for arraignment with thousands of supporters and demonstrators watching from the streets and millions watching from home or from work. It was the most most important courthouse appearance in recent memory to answer for one of the weakest indictments in New York history.
As has been reported, Trump was formally charged with 34 felonies – more on those below – and pleaded not guilty.
Here is the indictment that was just released this afternoon.
And here is the statement of facts.
Trump faces 34 counts relating to "Falsifying Business Records in the First Degree, in violation of Penal Law § 175.10." These charges relate to to bookkeeping records concerning a hush money payment of $130,000 to Stormy Daniels soon before the 2016 election; a $30,000 payment to a former Trump Tower doorman by AMI (National Enquirer); and an AMI/National Enquirer payment of $150,000 to a woman who said she had a sexual relationship with Trump when he was married.
The indictment specifies that Trump "made and caused false" entries in the business records of enterprises "kept and maintained by the Trump Organization." Trump is said to have done this with the "intent to defraud and intent to commit another crime and aid and conceal the commission" of that crime. (Intent to defraud is construed broadly in New York, and can include acts that seek to avoid responsibility for a violation of law or to conceal offenses; there need not be financial harm.1)
Here's an example relating to an invoice from Michael Cohen (Count 1):
That verbiage is repeated all throughout the 16 page indictment, with differences concerning the dates and the type of record (invoice, ledger, check, etc.) that was allegedly falsified, all in violation of NY Penal Law § 175.10.
Before we get to the law itself, and the Manhattan DA's dubious, dangerous, unheard-of application of the law, let's begin with a basic observation: Trump was overcharged. Here's why.