26 April
Posted by James Madison of American Media Periscope
Note: This video summarizes Agenda 2030 but is the product of those who favor this globalist plan
If you are not familiar with Agenda 2030, you need to be because that is the World Economic Forum's (WEF) plan for the world. The WEF is led by Klaus Schwab and is comprised of heads of state, billionaires and the elite of the business world. Perhaps the greatest problem with the WEF is that it is totally unelected and accountable to no one. Agenda 2030 is the name they have given to their plans for humanity which involve a major disruption to virtually all of our liberties and it will be imposed upon us without our consent. One recognizable slogan they have popularized is that 'you will own nothing and you will be happy'.
Agenda 2030 is the textbook example of how global elites see themselves as our overlords who will tell us what is best for us. The hubris behind it is astonishing as the members of the WEF are now deciding to increase the pace of this plan which includes, but is not limited to, the following. First, Agenda 2030 wants to create a global governance which obviously means the end of sovereignty for the nation state. AMP is ardently opposed to world government as it will result in the USA being metamorphosized into a third world standard of living that is under the control of a surveillance state which is being modeled on China's system of near total monitoring of its citizens. All privatization will cease which means this is basically a massive world of serfs who cannot own property and money and food will be rationed.
People who live under this system will not be permitted what Americans accept as 'normal' today such as single family homes with yards. Once Agenda 2030 is implemented, people will be herded into 'smart cities' which is nothing more than a code word for a digital prison. The WEF calls these urbanizations 'Fifteen Minute Cities' because their selling point is that everyone will be able to get to the locations they need for business or shopping all within fifteen minutes and cars will initially be mandated not for use other than for rare and special purposes where citizens will have to obtain permission to use and they will have a limited number of times per year they may do so. Eventually only public transportation will exist and all this will be done in the name of 'saving the planet'. But, what you will notice with the WEF is that their rules never apply to them, only to us 'little people'. They arrive at Davos Switzerland in their private jets because they are the world's elite and they will enjoy every luxury while the rest of us, at least those of us who are still alive, will be kept at a minimum standard of living and once we are no longer useful we will be disposed of.
Klaus Schwab has stated that coronavirus and rising inflation in food and fuel are what their motivations are for accelerating their plans. This is a preposterous claim simply because it is the world's elites who have created coronavirus and other soon to come pathogens with the goal of depopulation. Inflation in food and fuel are designed to being the process of discouraging freedom of movement along with increasing the costs. While it is often delivered as a punchline, it is not a joke that the WEF wants people to eat insects as protein and there have been reports that beef and pork may be banned for consumption. Rest assured that when the WEF meets in Davos they will have a nice steak waiting for them, just not for the rest of us. Perhaps this is why pigs and cows are becoming targets of mRNA injections in hopes of spreading the gene editing to those who resisted the globalists plans to take their heart stopping vaccines.
If you watched the above video, or if you are familiar with Agenda 2030, you will notice key code words such as 'sustainability', 'stakeholders' eradicating poverty and ending hunger. Even Mr Biden took his campaign slogan of 'build back better' from these world socialists. These may initially sound benevolent but they are anything but. Their aims will be imposed by ending all the freedoms that a person born in the United States enjoys today. People of the world must resist this deep state cabal with every fiber of their being or just accept that they are going to have a life they no longer recognize, nor can they do anything about because the idea of accountability does not enter the mind of a globalist.
Klaus Schwab
---
The World Economic Forum Says It Will 'Accelerate' Implementation of Globalist Agenda 2030.
by Jake Welch
April 26, 2023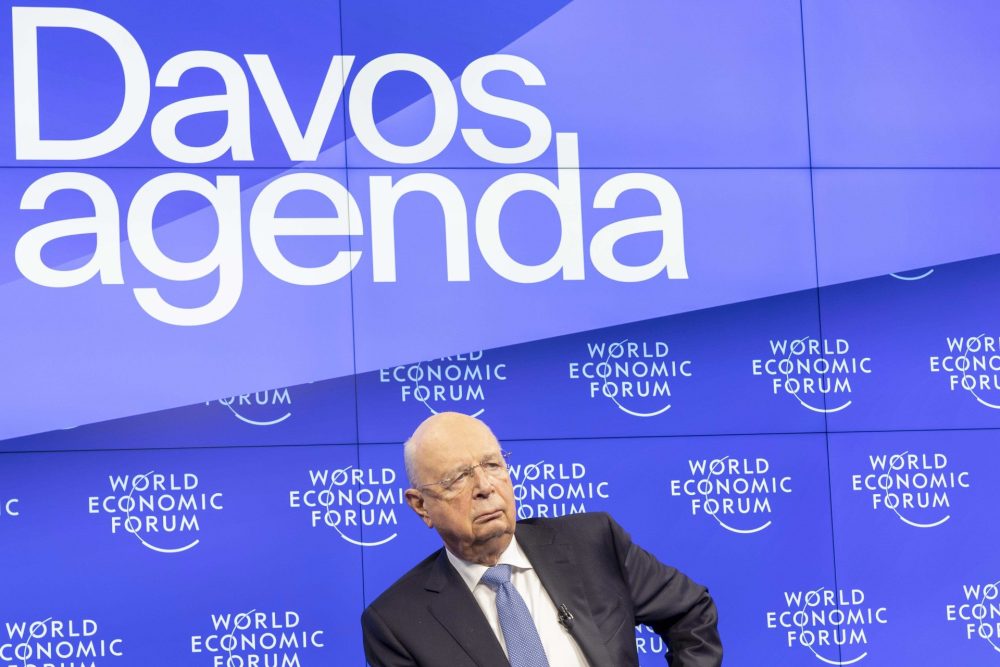 World leaders will be gathering together later this year to "accelerate the implementation of Agenda 2030," according to an announcement made by the unaccountable, corporate-led World Economic Forum (WEF) earlier this week.
The United Nations (UN) and the WEF appear frustrated by a lack of progress made towards their 'Great Reset' ideology, alongside Agenda 2030, the socialist, ideological successor to the failed "Millennium Development Goals".
The WEF – led by German engineer Klaus Schwab, whose father once worked for the Nazi Party apparatus – has said previous efforts to implement their plans "suffered unforeseen setbacks due to the COVID-19 pandemic, major negative impacts of climate change, and the rising cost of food and fuel everywhere due to the conflict in Ukraine."
Global leaders and representatives are, therefore, being summoned to "strategize" and expedite the progress of what the WEF refers to as "arguably the greatest-ever human endeavor undertaken to create peaceful, just, equal, and sustainable societies."

The UN Department of Economic and Social Affairs has argued that "[p]ractical solutions that can accelerate progress on the [Sustainable Development Goals of the United Nations (SDGs)] will be urgently needed."
The seventeen SDGs comprising Agenda 2030 were first compiled in 2015 and were agreed upon by 191 UN Member State governments, though not necessarily their voting publics. These "goals" include laudable aspirations such as "ending poverty", and eradicating world hunger, amongst more nefarious globalist goals in areas of gender ideology and hard-left socialist economics.
Since Davos 2o21, the WEF has publicly discussed how these goals can be used to achieve the 'Great Reset,' which would see ordinary people able to own nothing personally. The WEF claims this will increase happiness in the world.
Civic Participation.
The WEF is focusing on something called "civic participation" to push its plans. They describe this as tackling "economic inequality, gender imbalances, corruption, and environmental degradation."
"In the quest to build back better," says the WEF, "civil society is proposing new ways of achieving the SDGs and creating a better post-pandemic world."
What this will look like is something approximating communism, for a better world is one where "the benefits are evenly spread" because "development must be about freedom from fear and freedom from want."
This appears to be very much in line with the WEF's agenda where everyone works together for the "common good," rather than aiming for profit or reward for hard work rendered or risks taken.
Halfway There.
The WEF plans to assemble world leaders after the highly-anticipated Sustainable Development Goals Progress Report is published by the Secretary-General of the UN, Antonio Guterres, later this year.
The report's findings will inevitably lay the foundations for the international deliberations. "This year's report," insists the WEF, "is especially crucial as we're nearing the halfway point of Agenda 2030."