27 March
Posted by James Madison of American Media Periscope
After a long hiatus, President Trump is back on the campaign trail, and clearly at his best. He spoke in Waco, Texas for two hours to an overflow crowd that began gathering the previous day. The President arrived on 'Trump Force One' which was warmly received at the plane began its descent.
The President unleashed on the illegitimate case being brought against him by New York DA Alvin Bragg before running down a list of failures by the Biden Administration, many of which were peppered with sarcasm which the crowd welcomed.
What may have been the truly unusual aspect of the rally was the location of Waco. Waco certainly has a conservative base and would welcome the President but the infamous 1993 FBI raid of the Branch Davidian compound left many children dead and the FBI seen as thugs. Today, the supporters of the President share the assessment of the FBI but for entirely different reasons. The FBI was shown to be corrupt and falsified evidence to attempt to frame President Trump and advance the Russian collusion myth all while 'forgetting' about Hunter Biden's laptop.
Some liberals made the feeble effort to attempt to equate a Trump Rally with a cult similar to the Branch Davidians. That attitude is not deserving of any more than a mention because some things are extraordinarily simple. In this case, the only conclusion was that leftists consider patriotism to be something to be feared. It speaks volumes about the ever growing divide in this nation.
---
WACO: FED massacre cover up and Clinton 'suicide' called out by Trump

Mar 25
The fake news is wondering why Trump chose to start his Presidential rallies for 2024 at the infamous Waco, Texas and for once, they might be onto something.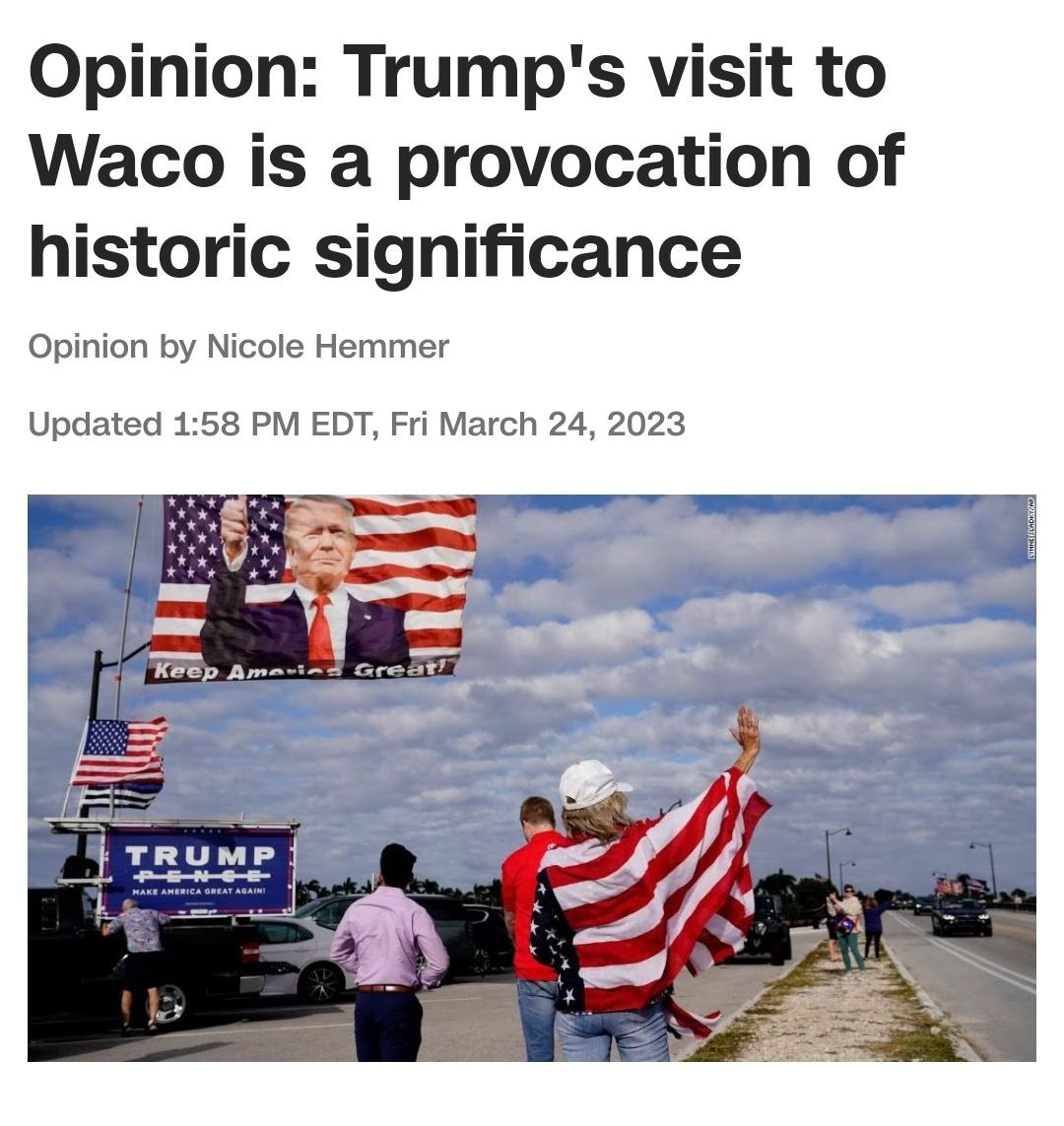 Click Picture for Video link
I went digging into the WACO massacre where a cult leader and over 80 people stood their ground against the federal government and then performed a mass suicide ritual by burning their own house to the ground.
Or did they?
Trump's campaign manager says that their choice had nothing to do with that infamous event but I'm not so sure.
After digging into it, it seems like the government, backed by Bill Clinton, gave the order to burn these people to the ground and denied them their constitutional rights.
To be clear, I do not believe the cult leader David Kiresh was a good person, in fact, he was a pedophile, but all signs show that the government had set their will to take someone out and mass sacrificed children to do it.
To summarize what happened:
The ATF appeared to have been given the order to take down this cult and they instigated a shoot out on purpose by instigating it with an army of government officials. They sent tanks and snipers and surrounded the area. Some ATF members were shot but many thought the cult started the shooting which is now in question as I will show later in this thread. When talks of of release of the women and children was going well they seemed hell bent on doing everything to make the situation worse.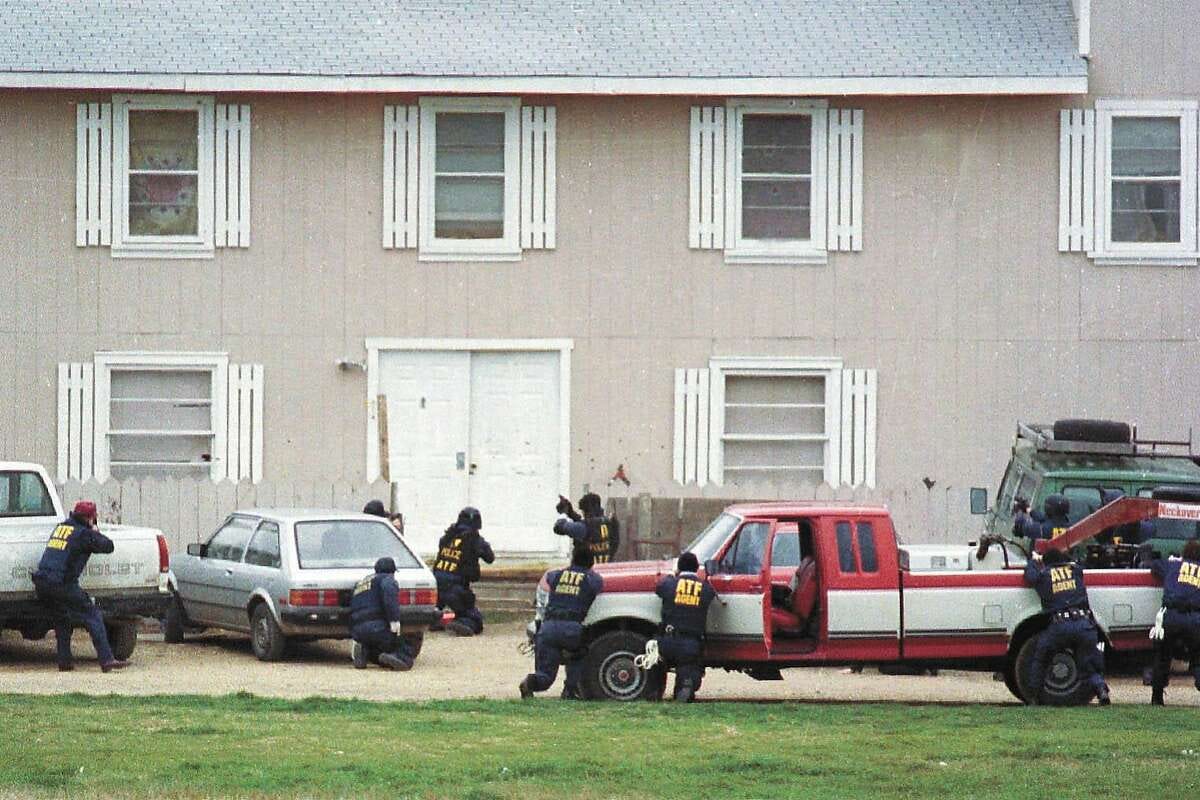 https://www.youtube-nocookie.com/embed/oWE4n4A4N9g?rel=0&autoplay=0&showinfo=0&enablejsapi=0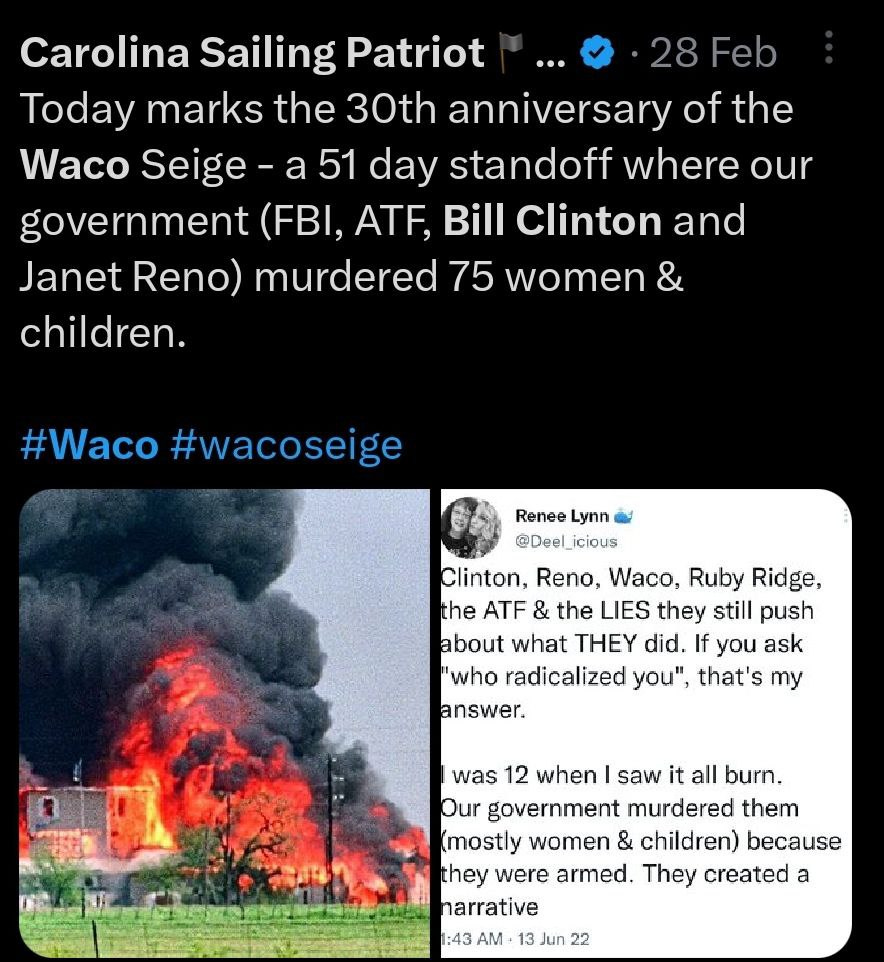 Trump rally held on April 15th at the 30 year anniversary of the event.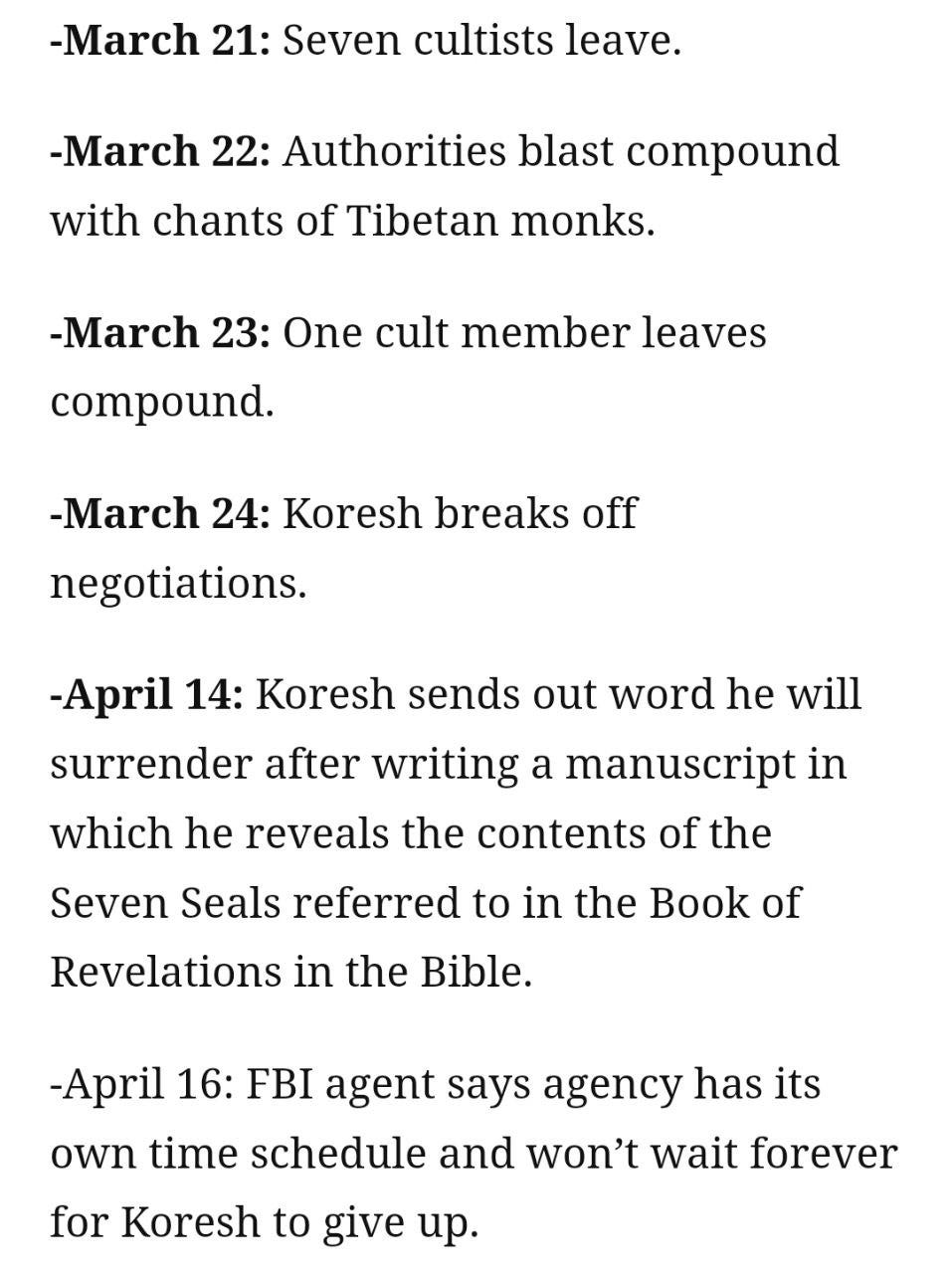 In 2016, Trump brought up a 'Conspiracy theory' that the man who was connected to the Waco event with Hillary Clinton did not commit suicide but was murdered by the Clintons. Fake news Jake Tapper tried to shame him for speaking out about it.
Tapper:
"Mr. Trump has repeated an outrageous and long-ago debunked falsehood about former Deputy White House Counsel Vince Foster a friend, of Bill and Hillary Clinton's until his tragic suicide."
Trump:
"I don't bring Foster's death up because I don't know enough to really discuss it. I will say there are people who who continue to bring it up because they think it was absolutely a murder. I don't do that because I don't think it's fair."
Where there is smoke there is fire….
https://www.mediamatters.org/donald-trump/cnns-jake-tapper-blasts-trump-reviving-bizarre-conspiracy-theory-clintons-killed-vince
"Foster, who worked in the Clinton White House, took his own life. But critics are saying Mr. Trump was trying to suggest something else when he told the Post, 'Whether it's Whitewater or whether it's Vince or whether it's Benghazi. It's always a mess with HIllary.'
Trump knew! And what was he just connected with nine months before? WACO.
Vince Foster was Hillary Clinton's mentor…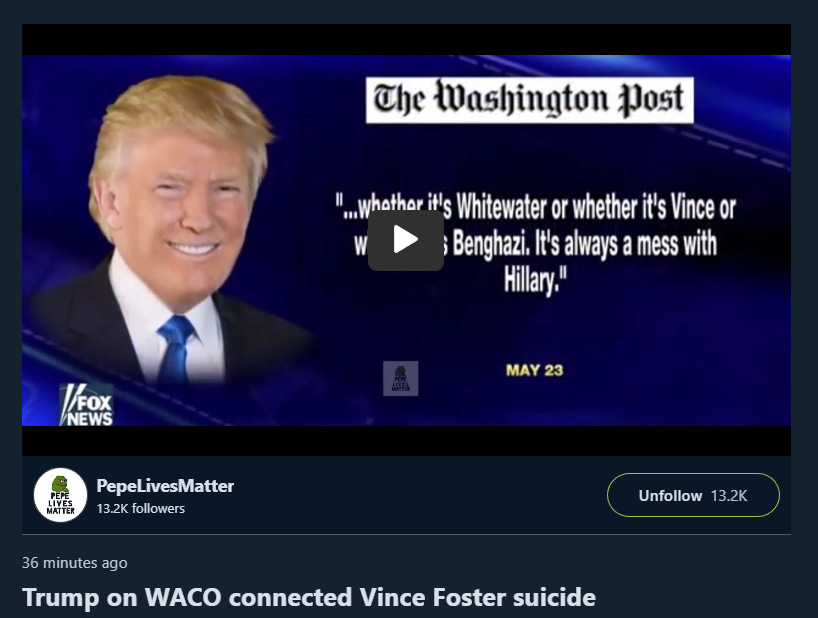 The government helmed by the Clinton's ended up hiding evidence at the crime scene in the aftermath of the WACO massacre. Check this out: They hid the front door and it conveniently went missing in the wreckage. Why is this important? The ATF said that the cultists shot first but the front door was proof that it was not true. So the proof just vanished!
The FBI changed the crime scene. Why? What are the chances?
Clinton associate takes boxes from Vince Foster. Another classic Clinton suicide/cover up.